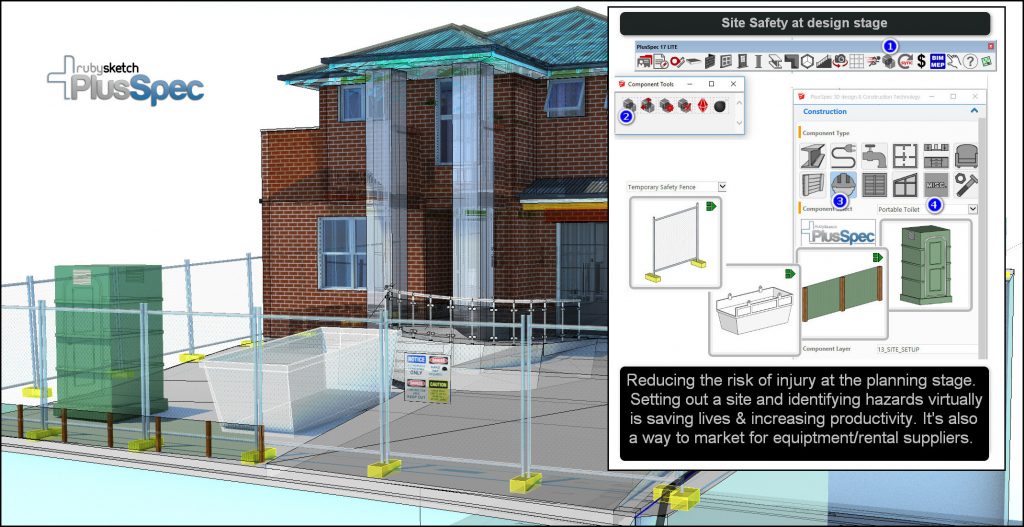 Plan out your site with PlusSpec and reduce error, identify hazards, and boost your productivity.
How often does site safety fall to the wayside?
2.3 million workers die every year by work related injury at a staggering cost of $3 trillion, according to the International Labour Organisation (ILO).
Is part of the problem that site safety is traditionally just another report of endless (meaningless) paper?  We can't tell you how many times we have received a generic risk assessment by a sub contractor, or how many times we have seen trades simply signing without reading, just so they can hurry up and start. To put it simply, paper, spreadsheets, and data are disconnected – so it is easy to see why this problem is perpetual.
Builders/Contractors have a lot of crap that they have to deal with. Adding more paper with big blocks of text is not the solution, Virtual construction with hazard identification is.
It is far easier to plan the setting out of a site and to identity the hazards with a 3D model. There is no need to decipher or interpret things, which we all need to do when we receive a 2D plan. Moreover, if something doesn't work or fit – it is made perfectly clear in the 3D model.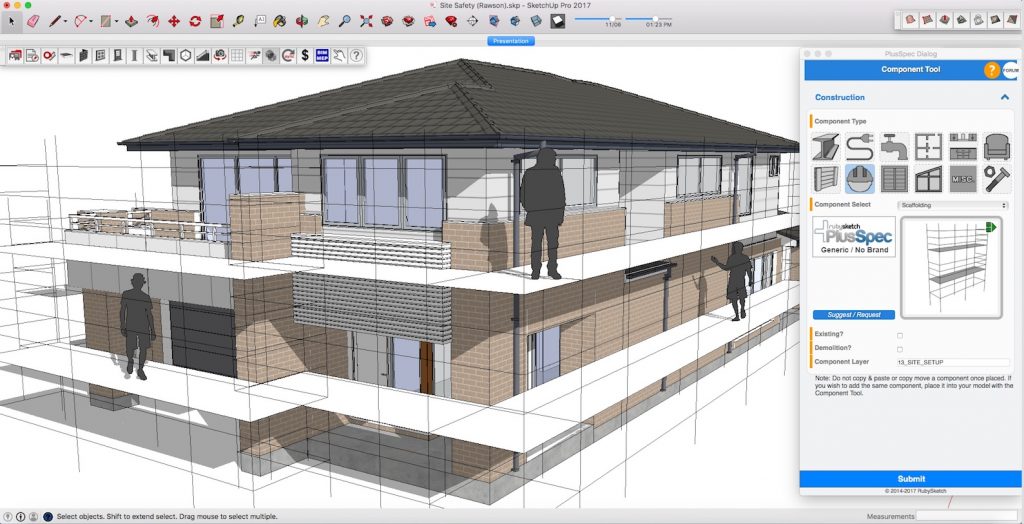 Easily plan and quantify all of your site requirements in PlusSpec, such as scaffolding.
This is just another reason why PlusSpec for SketchUp is taking the lead in residential construction.
With PlusSpec, safety officers and Builders/Contractors can visually see potential hazards, document them for future reference via our tag tool, or simply suggest a safety driven cost saving design alteration during the planning phase. Identifying risks and reducing hazards associated with a site specific design, was not possible, feasible or accessible in residential construction up until now. Understanding site specific risks will help identify low, medium and high-risk areas and potentially eliminate costs due to problematic site access, sloping sites, deep excavation, public safety, etc. Although this is the ideal time to start identifying these site specific factors, if a Builder/Contractor is not able to provide input during the planning phase, they can tag/add an allowance for this in the quote or tendering stage and communicate this back to the project administrator for consideration.
How often do Builders/Contractors include these additional costs that are due to risks or hazards in an estimate? The answer is, nowhere near enough. But why you ask? The answer is because it is a difficult thing to do unless you physically go to the site, or you see it in 3D. And when most Builders/Contractors are still quoting for free, site visits are too costly.
Just as a mistake made on site is 100 times more costly than a mistake made in a 3D model, so too are accidents. Identifying risks and hazards before a project commences will reduce injury and ultimately save lives.
If you're not using PlusSpec to design or estimate, or improve safety on your projects, start your free 30 day Trial and transform the way you estimate and build.