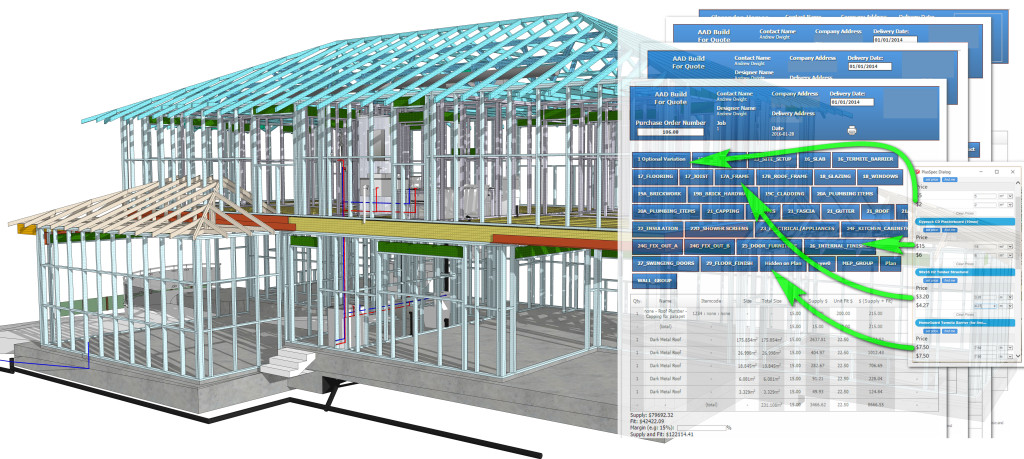 What is the best estimating software to use in residential and commercial projects?
Estimating a project can be hit and miss, and it takes a long time to ensure you are accurate. There are a lot of programs available on the market these days, and it is tricky to know which one will work for your business.
It is hard for a custom builder to actually sit down and do a complete quantity take off by themselves. Honestly, it is very expensive. Larger volume builders offset these costs by building from set plans, which will be used hundreds of times. Moreover,  custom variations are how they make money on each project.
The same cannot be said for small building companies. Every hour spend quoting, is an hour of free work. Small builders do not get paid to prepare a quote, so they are forced to spend tedious hours after work, compiling their quotes for free. I remember those days very well, and I will never go back.
Many custom builders send plans to a quantity surveyor and pay a premium, with no guarantee on accuracy. Others get their partners to help. I must say sitting down after a day on site to work for free is not something that I would wish on anyone. Cracking a beer, having a game of golf (or any other leisurely activity), and spending time with friends and family is what we should be doing when we get home.
Nevertheless, quoting is part of our work, so we need to do it quickly, accurately and efficiently within working hours.
The largest majority of errors when quoting/estimating stem from a 2D plan. Simply tracing over a floor plan may allow you to achieve easy measurements like flooring, plate lengths and approximates on square meters (for internal linings, etc) – but may be fraught with error and oversights. The truth is that most cost estimators and builders can easily miss combining elevations, sections, window layouts, plumbing, electrical and engineering plans. It is difficult to say the least – especially when you have a plan set of 40 or more pages, which is a common occurrence on many small to medium projects these days. We assume that more detail would create more accurate estimates, yet there is a point where over detailing will actually equate to more time and a higher chance of error.
Estimation and quantity take-off error, can also be attributed to the fact that builders do not get paid to quote (especially in the residential market). Most builders know from experience the approximate price of a job, by simply looking at the plans. However, this is hubris and should never be relied upon. I guess this is the reason why many builders do not even bother submitting a formal price? Either way, it does not do you or the industry reputation any good.
I was browsing through an industry magazine today,  and I read advertisements from 5 different programs, each boasting that they had the best software for estimating and quantifying from plans (4 of them had to be wrong, right?). Some even preached that their software produced 3D.  However, as soon as you dig a little deeper, you realize that you either you need a degree to run the software, or that the software simply does the easy stuff (which you could more easily do with a ruler, calculator and paper).
Estimating software needs to produce more than square meter, cubic meter and lineal meter calculations. Estimating software also needs to show you potential issues, so that you can accommodate for them and associate a cost to them. In my 25 years of construction and estimating, I know firsthand that the majority of mistakes were due to inconsistencies in plans, or the unforeseen details that were hiding within the lifeless 2D lines. 2D plans were a necessity once, but not anymore. We now have the technology to be able to watch sport live on our phones, video chat for free with someone on the opposite side of the planet, or perform complex tasks with the click of a button. And yet we still use endless pages to communicate complex structures. This has to stop. It is increasing the costs of construction as well as the risk of error.
Some programs come with pricing pre-installed, and it is a big help – particularly for the Design Industry. However, if a builder was to quote off the standard prices, how would he or she know that the prices are geolocated to the project? I am sure we all know that a project in a densely populated area would be less expensive than a project out in the country… If manufacturers are on the East Coast and projects are on the West Coast, common sense tells us that the delivery cost will have a substantial impact on the project cost. Sure the quantities and labour rates may be right, yet the delivery costs will be well short. Furthermore, many of the specified products may not even be available.
One way to counteract this, is to add in provisional allowances, to cover the medium price of a product. It gives the client an indication of the amounts that they have to spend on bricks, or finish items. However, we all know it would be so much better to have the finished product in the original estimate. This way, the price is fixed and administration staff can be better used creating a full set of purchase orders according to the quote. So why can't we simply insist on this?Clients need to see how the products you have estimated will look together. Clients need to see how things go together. It is very unusual for a client to have a full finish schedule before the builder quotes a job. Traditional estimating software does not allow this. However, PlusSpec does.
SO, what's next for PlusSpec? Well, I am pretty confident that we can cover the quantities in very little time, yet real power is achieved when products can be ordered and automatically added to accounting software. Estimating software is one thing, and accounting software is another. A great estimating program is not a great accounting program, and to work well, they need to talk together. The Take-off needs to go directly to the accounting software, and orders need to be able to be placed on site.
I am pleased to announce that PlusSpec will soon export orders directly to Xero. You heard it here first!
PlusSpec = Design > Engineer> Present> Estimate> Account> Purchase> Deliver> Construct.
'The future of Estimating Software is here.
Andrew is the founder and creator of RubySketch, BIMBits 3D model library, and PlusSpec. He has over 26 years experience as a Builder and has an Advanced Diploma in Architectural Technology.