We are happy to announce to our Australian users, that Brickworks Australbricks have further partnered with RubySketch, and now have their full range of bricks available inside of PlusSpec.
Every single brick! Can you believe it?
Combined with PlusSpec's new Material Library search function, Australian users can now set their State (Vic, NSW, WA, QLD, SA, TAS) and only have access to bricks that are actually available in their region. This will ensure that you do not accidentally specify a brick that you can't actually use!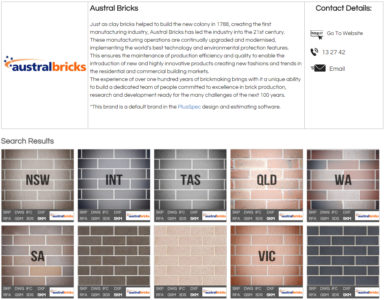 Key benefits of PlusSpec for Brickworks Australbricks Customers:
Architects and Designers
Ability to design with any Australbricks products, with a true representation of colour and texture.
Ability to generate unprecedented feasibility studies and/or material quantities, with no extra work.
Communicate more effectively with Clients, Builders and trades: Ensure that everyone understands the design.
Builders
Ability to automatically generate a Take-off and Estimate, and to select if you want to calculate the bricks by the m2 of bricks, or by the exact number of bricks.
Round up bricks to match the pallet sizes. This will prevent accidentally under-ordering, or over-ordering.
Other benefits include: communicating with subcontractors, error reduction and human error when interpreting specifications.
Homeowners
PlusSpec enables unprecedented Communication. Clients will know what they will get, before it is built.
Don't like the brick now that you see it? Have another brick specified with the click of a mouse!
Drew Povey joined RubySketch in 2015 and now heads up the Melbourne Office. He has a Masters of Architecture, a B.A in languages, and a Diploma of Business.