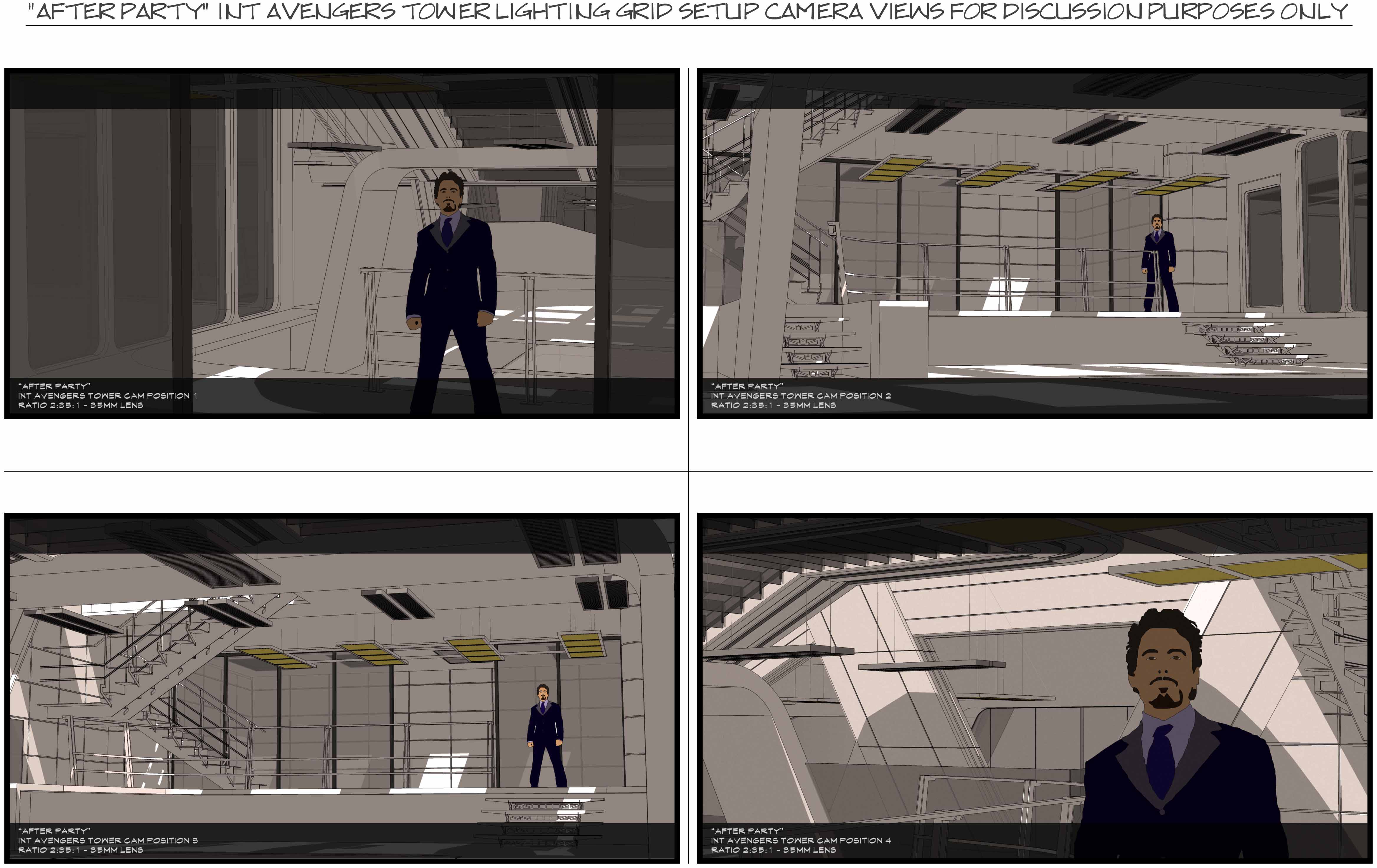 Image by Luke Whitelock. Copyright owned by Marvel Studios
And the answer is simple.
No other CAD or BIM software (or any other acronym that you want to use) has actually been made as a design tool.
Our competitors are merely 'virtual drafting boards', and have been created so that their users can create 2D drawings in a slightly more efficient way.
SketchUp on the other hand, is the first 3D CAD design software. The Trimble SketchUp team believe that Architects and Designers should be focused on design (above everything else), and that's why they created SketchUp as 'a pencil with superpowers'. It enables you to design in 3D, in the same free way that you can design with a pencil and pen (the traditional, and only other way to truly design). But most of us can't really draw anyway, right? Well, drawing with SketchUp in 3D makes you look like a pro. And no other CAD software comes close.
Luke Whitelock is an Assistant Art Director with over 12 years experience working on large movies for clients as diverse as Marvel, Fox, Universal and Disney. Luke plays a major role in bringing movies to life and realizing the finished movie sets. He has worked on some 'big name' movies, such as "Inception", "Guardians of the Galaxy", "Beauty and the Beast" and "Doctor Strange" (among many others). Check out his IMDb bio. He is currently finishing work on "Avengers: Infinity War".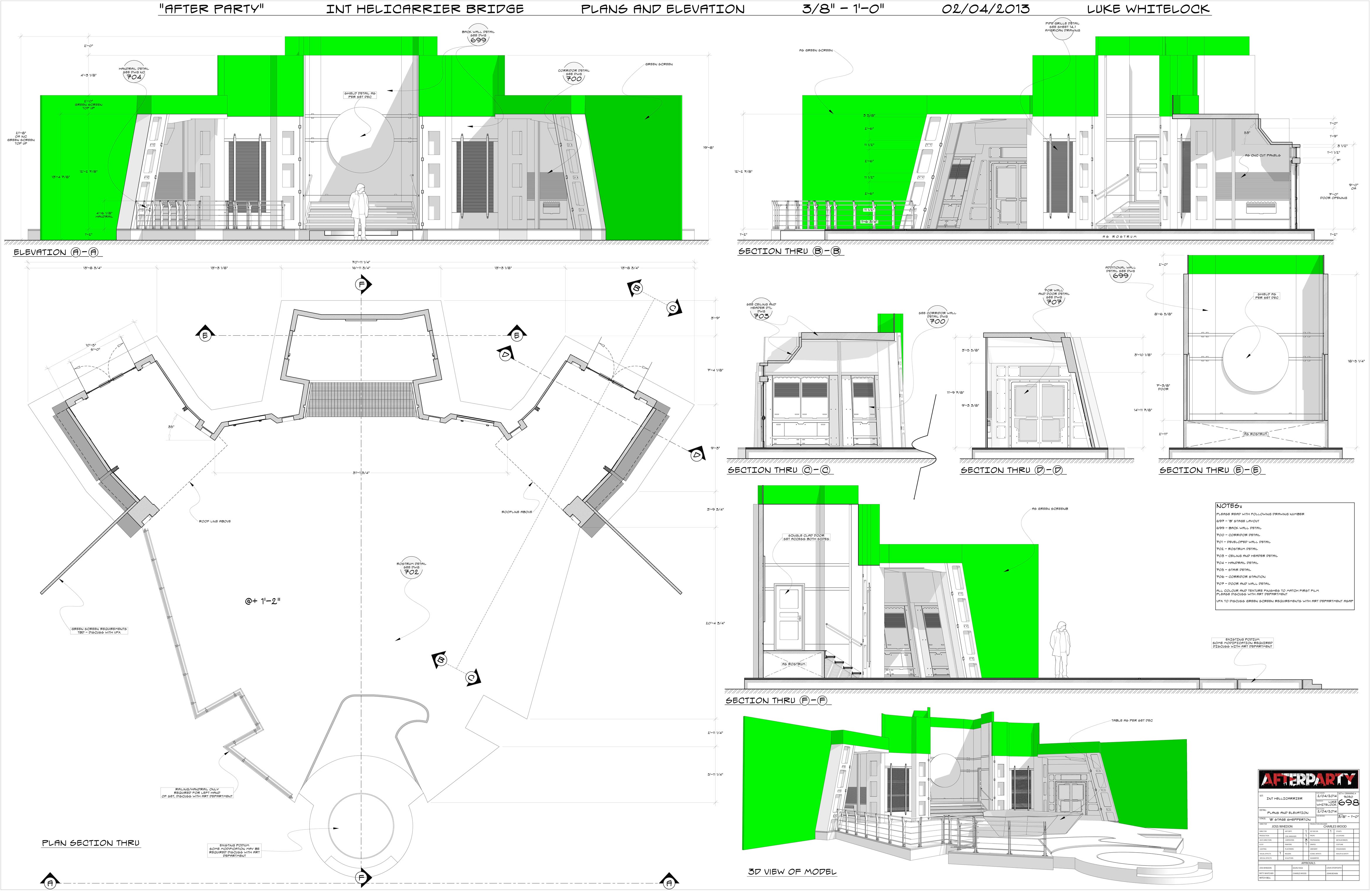 Image by Luke Whitelock. Copyright owned by Marvel Studios
Luke has now used SketchUp in his work for over 10 years. In the last 5 years, he made a transition from 2D board drawing to using only SketchUp and Layout for his work. Aside from dreaming up the sets of block buster movies, he also helped to design the "Wizarding World of Harry Potter" Theme Park at Universal Studios, Orlando, Florida.
Luke has been very vocal about how great SketchUp and Layout are, and within the Film Art Departments he has converted many of his peers.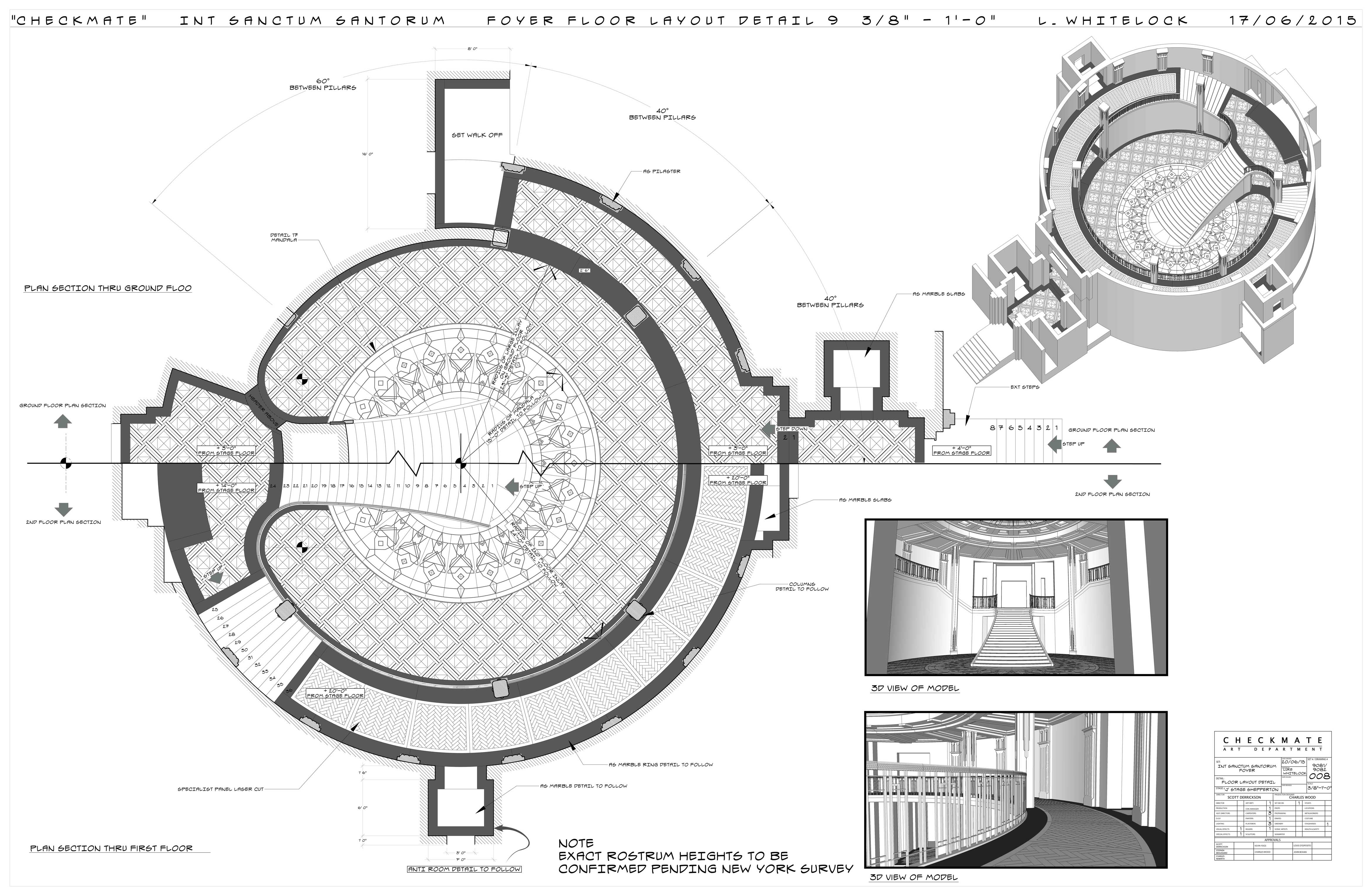 Image by Luke Whitelock. Copyright owned by Marvel Studios
As you can see from some examples of Luke's work, his designs are not only highly creative and emotive, but also very technical. Because the 3D model is so complete, and illustrative, he is also able to quickly turnaround projects within a couple of weeks and then see them go into production immediately. This is because SketchUp enables him to do three things seamlessly:
design
communicate his design in a way that everyone immediately understands (3D, colour, perspectives, etc).
communicate technically (so that the designs can be built)
Movie Draftsman and Art Directors need vivid imaginations, and ensure that they use the best mediums to help them design, and then communicate their vision.
In the words of Luke, 'Much of what we do in the Art department relies heavily on everyone being able to understand the design, not just from a construction point of view but also from the perspective of all the other departments, whether that's rigging, SFX, Visual Effects, Set Dec or the Director of Photography. A SketchUp model can be viewed by everyone and immediately everyone knows what they can expect to get with regards to a finished set. Quick turnarounds and last minute script changes are not as painful as they once were, as the beauty of SketchUp and Layout means I can change the design and the drawings will automatically update saving hours of labour and stress. I love SketchUp!!'
We share Luke's statement, and we believe that these same principles that are so important to being able to successfully design movie sets have exactly the same importance for the design of buildings.
So why do Architects and Designers use software that have not been made primarily to help us design, and then communicate the form and feel of our designs in ways that everyone understands (especially our clients)? Why are we using 'Virtual Drafting Boards' and trying to communicate the old way (in 2D)? 
Shouldn't we be using software that helps us design (first and foremost) – but also communicates the form, feel, and function? Just like in the movies, design is all about emotion. You should be able to communicate directly in your immersive 3D model – more 3D, less 2D!
However, we also understand that Architects and Designers also need smarter ways to draw, specify products, and capture information/data in the model. We understand the power of BIM – and being able to model parametrically (having the ability to adjust every element in your drawing through attributes, rather than having to redraw, or manually adjust). We understand that you need to be able to design and specify real building materials and products. We understand that you need to be able to be able to work with consultants and be able to update your work to suit their specifications. We understand that you need to be able to easily manage the cost of your designs so that they meet your clients budget. And we understand that you are supposed to do all of this and more within strict deadlines.
This is why we created PlusSpec for SketchUp.
At RubySketch, we don't think the same way as our competitors. We want to change the way that we design and build. We believe that 3D technology should be more than just another way to create 2D plans.
We challenge the traditional ways of doing things by creating software that ends the communication breakdown between architects, builders and manufacturers (not to mention clients).
PlusSpec for SketchUp gives you total design freedom, as well as the best of Building Information Modeling, Virtual Design and Construction & One-click Feasibility studies. This is the ultimate design tool for Architects and Designers. With PlusSpec for SketchUp, you will create 3D 'Virtual Design and Construction Models'. These are exact, virtual replicas of what will be built, and contain all of the information about the project within the model (everything that anyone would ever need to know). And because it is true 3D, you are able to communicate the feel, form and function a 'natural way' (from within the interactive and immersive 3D model): the same way we see the world with our eyes; the same way that we lose ourselves in movies. If you have highly bespoke/complex elements in your design. use the easy SketchUp tools and 3D sketch it, then 'BIM-it' with PlusSpec – and you don't need to be a guru or BIM Manager to do it!
It just so happens that our software is simple to use and user friendly.
Become part of PlusSpec HERE
See some more examples of Luke's work HERE.
SketchUp also recently interviewed another Hollywood Visual Artist, by the name of Chris Rosewarne. Check out this very interesting article HERE.