We would like to thank Taubmans for their latest PlusSpec 'shout-out', and for their ongoing support.
Australian users will be very happy to hear that the full Taubmans colour range is Coming Soon to PlusSpec!
Check out their latest Flyer: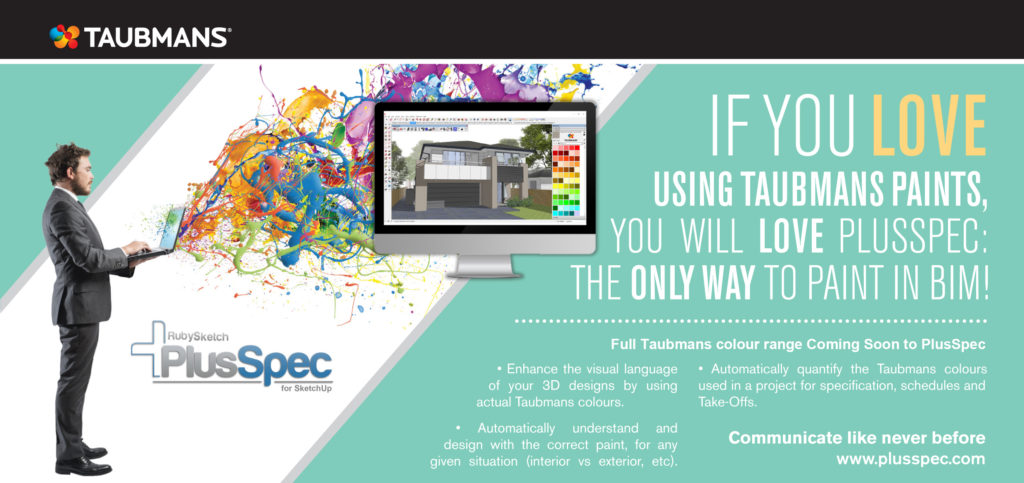 Taubmans regularly send out flyers with their paint brushout samples – and every user of the Taubmans Colour Centre requesting paint brushout samples will receive this PlusSpec flyer.
We recommend that all of our Australian users register to utilise these services from the Taubmans Colour Centre, by clicking on the 'Register' link found Here. This is the easiest way to see what your favourite colours look like off the screen, receive other promotional items from Taubmans, and stay up to date with all of their latest news.
This is just the beginning
We've been working on a new BIM Paint tool that will change the way you design, estimate and specify paint.
Interior design in combination with design and construction is a huge step forward for our industry.
Find out more here in our latest release.
Drew Povey joined RubySketch in 2015 and now heads up the Melbourne Office. He has a Masters of Architecture, a B.A in languages, and a Diploma of Business.