Traditional 2D construction details are inherently difficult to understand. Why? Because they are not a natural way of viewing the world. Until now, they were simply the only way to represent complex ideas, in a way that could be deciphered.
When I first started out in construction I was overwhelmed by 2D plans, let alone 2D details – and it took me years before I acquired the skill set and became confident in my ability to read and draw them.
3D construction details are the future – and now that I can easily produce and communicate with them, I hope that I never see another 2D detail again.
With the advent of new technology, it is now possible to even create 3D details that animate the construction sequencing and step by step instructions. You will see an examples of such 3D construction details on the RubySketch library. If you download the models, you are able to simply click on the scenes at the top of the page inside of SketchUp. PlusSpec for SketchUp is the perfect balance between design and construction. It allows the user to use the PlusSpec parametric framing and structure, which dramatically reduces the time to draw, and then use the native SketchUp tools to free-form model the custom details. This is Virtual Design and Construction at its best.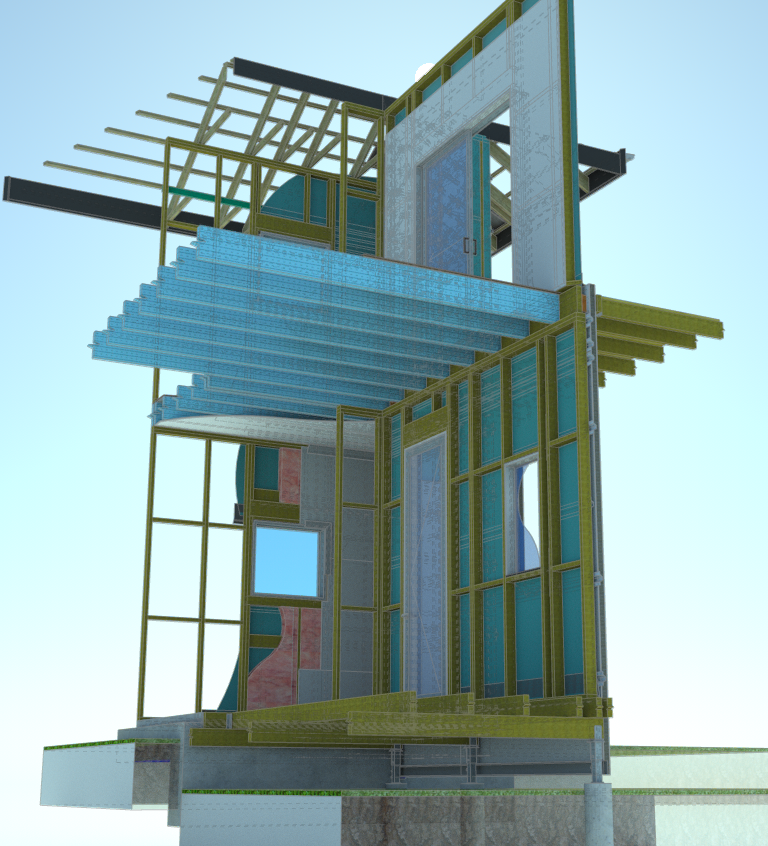 This is an example of a construction detail that I drew last week. If you would like to view the model, you can download it, and others, from the RubySketch library, by typing in Pronto in the search:
https://3dlibrary.rubysketch.com/

Creating 3D details like the ones shown in this post can be a time consuming process. However, one model can contain dozens (or more) of individual construction details. And once you have created a 3D detail, they can be used on future jobs, and can be quickly and easily adjusted to suit the requirements of each project – saving countless time and money.
However, there are still builders, from all over the world, that are spending tens of thousands of dollars to create real 'mock-ups', with real products – simply to explain to their trades how a project is to be constructed. The thought-process behind this is to mitigate future onsite error, by gaining understanding of the potential issues, clashes, and implementation strategies. However, it is my belief that physical mock-ups are no longer necessary, if everyone has access to a 3D model and 3D details. Comprehensive 3D details would save these companies a fortune!
3D details are the catalyst for Integrated Project Delivery (IPD) and Building Information Modelling, and I would be interested to hear your thoughts on the 3D details on RubySketch, that have created with PlusSpec for SketchUp. I would also love to see any examples, if anyone would like to share any work that they have done.
Click Here to see a YouTube Video of one of our 3D construction details.
The Design and Construction Industries are changing rapidly via the use of 3D technology and new innovation. 2D plans are antiquated; they are slow, and dramatically increase the chance of error. 2016 is a year that should be all about efficiency and communication via BIM and VDC. I urge everyone in the design and construction industry to embrace 3D details (not just 3D modelling) as quickly as possible. Don't get left behind.
This will be my last post for 2015. We hope you have enjoyed our blog, which will only get bigger and better in 2016.
Have a happy Christmas and a safe New Year.
See you in 2016!
Andrew is the founder and creator of RubySketch, BIMBits 3D model library, and PlusSpec. He has over 26 years experience as a Builder and has an Advanced Diploma in Architectural Technology.