Wearable technology is the way of the future, in and out of the workplace. We didn't realize we needed a smart watch until Apple and Samsung told us we did – and now half of us can't live without one. Innovative and accurate technology is now at our fingertips (quite literally) more than ever, and that has now expanded into work site technology.
We seem to be doing just fine with the technology we've got, but wearable technology has been taken to a whole new level with clothing, smart helmets and eye-wear, which have been created to make life easier. Various innovative enterprises are now partnering and delivering worker's (and definitely compliance officer's) wildest dreams. These tech-savvy entrepreneurs are improving the way we design and communicate, making our job sites safer, efficient and sustainable. So, what's the fuss all about?
The introduction of the Microsoft HoloLens to workplaces will  transform the way we work. The Microsoft HoloLens is a wireless augmented reality viewer which wraps itself around your head, like a visor. It is most popular due to its ability to utilize augmented reality to display 3D holograms in front of users. The 3D holograms are also able to be 'pinned down' so users can physically walk about the hologram to inspect it.
Trimble (acquirers of SketchUp) have collaborated with the Microsoft HoloLens to ultimately transform the way architects, engineers and contractors work. Trimble released information in 2015 at Microsoft's Build Developer Conference about the realisation of how collaborating 3D VDC and BIM modelling with augmented reality will break down barriers, ultimately improving the design and construction processes. Trimble intends to develop SketchUp, along with 2 other solutions to integrate into the HoloLens product (Trimble News Release).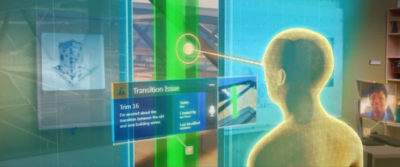 During the conference, demonstrations explored the possibilities of the integration of the two products. It further explored the outcomes for Architects and remote teams to better connect and analyse theoretical design concepts and create solutions that efficiently deter problems arising in the future within the design and construction process – all in real time.
Working with our industry in mind, it is crucial to look to the future to improve the user experience of Virtual Design and Construction technology. Imagine onsite inspections with virtual PlusSpec geometry thanks to augmented reality and mini-drones? Step into the future and imagine cross-checking accuracy with live point-cloud data, as well as eye command technology so you can simultaneously review a list of trades, product warranties, and installation dates – leaving your hands  free to sign off documents or drink that iced coffee.
It doesn't seem so far-fetched after reading the fantastic innovations by the above companies, because really, it's POSSIBLE! RubySketch aims to make our user experience more efficient and our products so reliable that you will be able to present them to clients and colleagues through augmented reality without any drama. It is no longer a question of 'if', it's merely a matter of 'when' this happens.