PlusSpec for SketchUp offers Total Customization, and is the Perfect BIM/VDC Software Solution for Your Company.
PlusSpec for SketchUp is an amazing new BIM software, that combines the power of 3D Modelling, 2D Planning, BIM/VDC, and Estimation. PlusSpec uses real manufacturers products from the Australian-made RubySketch online library, and generates automatic specifications and product schedules. Material take-offs and pricing estimates are formulated as you design. Feasibility studies and Building quotes will never be the same again.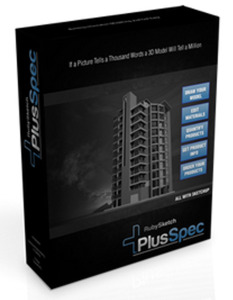 Out-of-the-box Solution:
Unlike many of our competitors, PlusSpec is an out-of-the-box solution: You can simply install it and use it straight out of the box, with minimal required customization to suit your workflow. You can start drawing in 3D, and combined with SketchUp Pro, generate professional 2D drawings, with no required set-up or configuration.
PlusSpec for Sketchup offers total design freedom. You can control and customize every element of your workflow, drawing methodologies, and output.
The majority of our users do not require Custom PlusSpec Software Solutions (to create specific, unique, features – that specifically suit your company).
Licence Price: AUD$990, per 12 month subscription (includes full support and free, regular upgrades)
Custom PlusSpec Software Solutions:
Every company is different. If PlusSpec does not perfectly suit the unique requirements of your business, PlusSpec can be customized to create a perfect solution for you.
Some companies (such as Volume Builders, Specialized product manufacturers, etc) want a specific software solution that is tailored to suit all of its unique requirements. This requires a unique Custom PlusSpec Solution.
PlusSpec can be customized to suit your practice/company. For a small consultancy fee, you can meet with one of our team members and discuss the ways in which PlusSpec can be customized to best suit your company's workflow. From the consultation, you will receive a report, which will outline to you our advice, all associated costs for implementing these custom features, as well as an estimated time of completion.
If you are happy with the proposal, the development team at PlusSpec will create a unique and custom software solution to best suit your business requirements.
Licence Price: AUD$990, per 12 month subscription (includes full support and free, regular upgrades)
Consultation fee: Contact PlusSpec for a quotation.
Customization fee: This will be determined from the consultation. Each customization is unique, and the price cannot be quantified until all factors have been considered.
To arrange to meet with a PlusSpec consultant and discuss how PlusSpec can be customized to suit your business, please contact: info@plusspec.com