If you haven't engaged a interior designer to assist with your selections and need to make timely decisions for the planning stage or the ordering process, here are a couple of considerations to make before selecting colours and textile design.
Colour harmonies that are on song
There is no such thing as a bad colour, only bad colour relationships. Colour psychology plays an important role in the finishing of interior and here are some techniques you may like to consider. They are
Analogous, Monochromatic, Achromatic
&
Complimentary
colour sets.
Achromatic
colours harmonies have low saturation, therefore utilise
white, black & greys
.  This scheme is classic, timeless and gives you freedom to change the theme easily by adding accent colours, through coloured throw cushions, floral arrangements, linen, tea towels, etc. You can also add interest by selecting patterns and designs, which I have covered in the second part of this blog.
Monochromatic
colours are tints, shades and gradients of
one colour
. This is usually used if you would like to make the room more of a backdrop to make the views or furniture more prominent and promote the inherent mood (e.g blue for a beach house, pink for a girls room) You can add interest through patterns, designs and unique furniture items.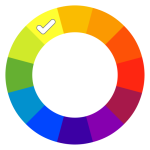 Analogous
colours are any
three colours which are side by side on the colour wheel
. One colour is the dominant, and the other two will support the scheme. This scheme is similar to the Monochromatic but offers more colour variation.  The addition of neutrals and adding some low key shades (pastel versions) of the selected colours will aid in achieving balance.
Read More