We are super excited about our next update: PlusSpec 2017 and so are many of you! We have never had so many people reach out to us and ask, 'What's new in the next release, and when will it be ready!?'
So, we thought we would share a sneak peak of some of the improvements and NEW features that will be making it inside PlusSpec 2017, which is due for release in the coming weeks (yes, weeks!).
The PlusSpec team have worked incredibly hard, and we would like to thank our whole team (especially our developers) for putting in the hard yards and making PlusSpec 2017 another successful journey. However, there are still plenty of milestones and ideas that we are working towards – some which will appear in the next update, and some that will need to be fine-tuned for the one following.
PlusSpec 2017 will improve your ability to take full control of your model by having more freedom to customise, edit, add and change elements of your model with greater ease and efficiency. We've improved many tools/features, including the beam tools, roofing tools, flooring tools, windows and doors – and we've even added some new materials from one of our Australian Building Suppliers (Stramit).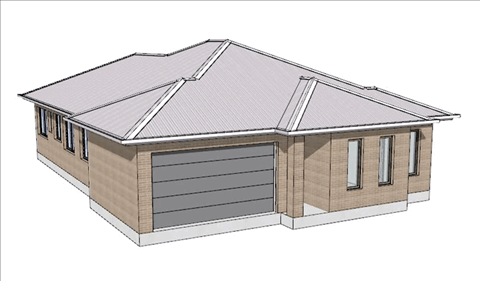 New roofing options coming soon with PlusSpec 17
But what does it all mean?:
✓ Work faster
✓ Better Communication
✓ More efficiency
✓ Better Project Results
✓ Make informed decisions at concept stage
Okay, sounds great, but what's NEW?!:
✓ NEW Handrail Tool: Have the ability to add handrails to stairs and balconies
✓ IFC Tool; Room Quantities: Feasibility studies for air conditioning, Reporting and Measurements (cubic/square)
✓ Beam Tool: Allowing users to add structural and non-structural beams to their models
✓ Load bearing point identifier: Visual identifier that outlines areas where reinforcement needs to be allowed for
✓ Hip Roof Tools: Dutch gable, Mansard, dual-pitch ability, Dormer options, and optimised use of the edit roof pitch tool, allowing users to add and remove roof edits
✓ Sloping Roofing: Trace any sloping roof from 2D or 3D, with the ability to change overhangs mid-draw
✓ Create a 2D roof plan: Project your roof plan onto your floor plans 
✓ Floor & Ceiling Joist: Add structural steel beams to the model to customise and edit
✓ Joist Tool: Specify more beam or joist types
✓ Windows & Doors: Add architrave lengths to windows and doors as well as improving existing functions for more customisation and estimating abilities
✓ Foundation Tool: Draws multiple items in less time (e.g. footings, walls, top plates)
✓ NEW Materials: Added Stramit products to the Australian Material Library (Floor & Ceiling Joist Tools and Beam Tool)
✓ And much more!
We will provide a comprehensive list of ALL features and functionality of PlusSpec 2017 when it is released towards the end of April 2017. We'll be posting these on our Release Notes and Blog pages.
Share your thoughts and share this page with your colleagues and friends!